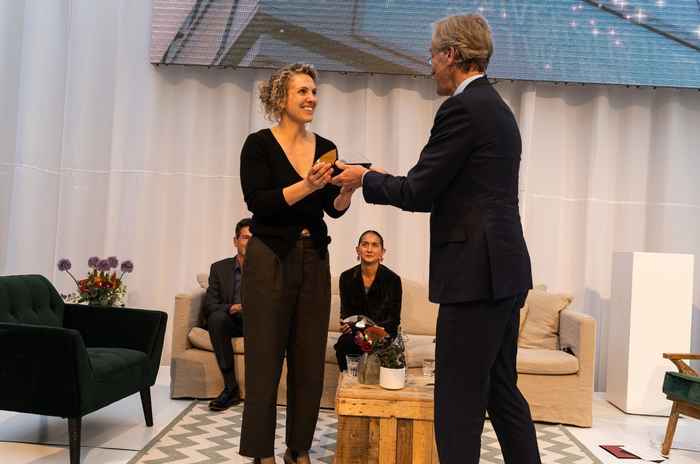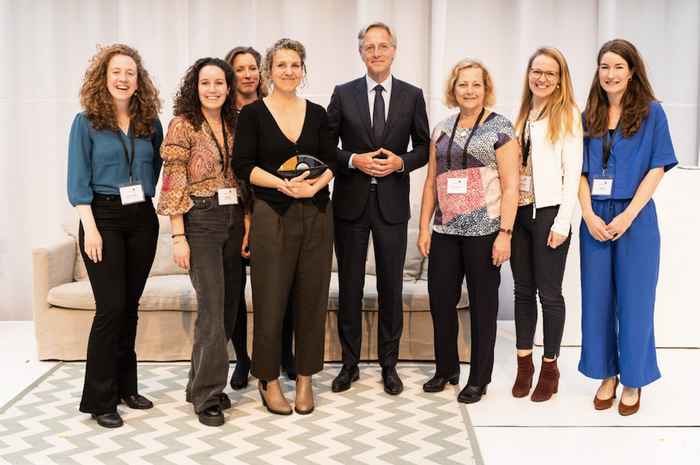 The Amsterdam Law Practice is a unique educational programme for legal experiential learning for Master's students. It focuses on the individual and personal development of students in the role of lawyers. Students learn by stepping into different legal roles, and reflecting on this experience from an ethical framework. Clinics and simulations work on the development of the professional identity of lawyers and build a bridge to society and the future field.
The ALP involves a large number of ACLPA members: Rosa Lokin-Möhrlein, Anniek de Ruijter, Gerrit Jan Pulles, Fleur Brockhus, Rachel Rietveld, Linde Bryk and Iris van Domselaar.
Anniek de Ruijter, director of the Amsterdam Law Practice, is very grateful for the award and the recognition of innovative education: 'Many people have worked incredibly hard on this ambitious educational innovation. The law school is so large that it is very difficult to offer the full range of courses to all students. This prize is a recognition for all the extra work, motivation, time and attention that everyone has invested in the Amsterdam Law Practice.
According to Dean André Nollkaemper and Director of the Amsterdam Graduate School of Law Mireille van Eechoud, the law in our society is becoming increasingly complex, 'Until recently the focus of law schools was really strongly on developments in positive law. It is extremely important that students also experience what their individual role can be. In this respect, the Amsterdam Law Practice now has an indispensable function in our Master's education.'
Social context
It is unique within Dutch law schools that the professional identity of the individual student is a central learning objective. 'In the Netherlands, law education has traditionally focused on learning about the legal system, the legal instruments, the context and the application of the law. But in recent years it has become increasingly clear that it is precisely the individual lawyer who can make a big difference to the content and justice of the law,' says Anniek. 'Aspiring physicians also need a comprehensive education program of professional reflection, including ethics, practicing client interviews and clerkships. This also belongs in law school.'
The biggest challenge with this education, which is so focused on the individual development of students, is making it available to large groups of students. Anniek: 'Ideally, I would like to see us start with this as early as the Bachelor's programme, so that students can experience a continuous development line.
About the Higher Education Award
The Dutch Higher Education Award is an initiative of the Ministry of Education. The award is intended as a sign of appreciation for educational teams that deliver top performance. In addition, it is an incentive for teachers to continue working on educational innovation and knowledge sharing.